Custom Rifle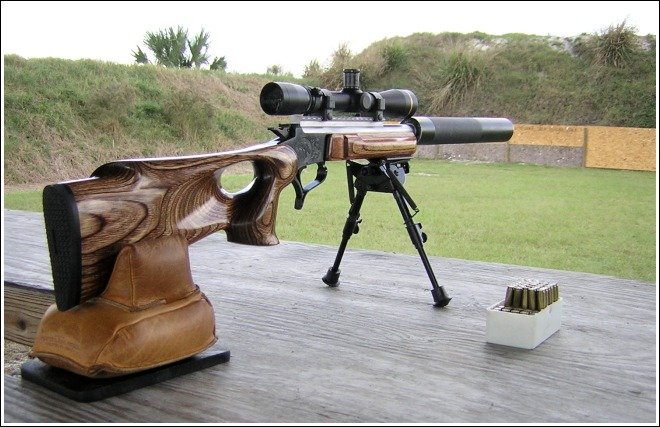 This custom rifle fires a 220 gr. Sierra MatchKing H.P. bullet at subsonic velocity.
Here's an unusual custom rifle that I built using the T/C Contender frame. This heavy SSK suppressor can be awkward on most rifles, but it feels like it belongs on the Contender. This particular rifle has a 16" stainless steel, match grade, Shilen barrel, and its balance with the suppressor is absolutely perfect. I've found that the SSK suppressor is as quiet as they come, and it helps deliver a bit more accuracy than some other brands. This rifle is chambered for the 300 Whisper. I've spent a fair amount of trigger time with this rifle, and I enjoy making long shots with it. I always like to hear how other shooters reload for this particular caliber. So . . . . if you reload for the 300 Whisper and if you shoot it out to 300 yards, I'd like to compare notes about your handloads.

Long before I completed this custom rifle, I found that every part of this project was going to be "expensive". Even the chamber reamer and the reloading dies cost twice as much as most other calibers. Much of the extra expense is because the 300 Whisper is a patented cartridge. There's no way to even get dies for a reasonable price. Suppressors are 100% legal to own with a special permit (it's merely another tax). However, the $200. price of this tax hasn't gone up since 1929. Due to the legal hassle and the high cost of getting a suppressor, it's a good idea to have one that can be used on different rifles. I also use this suppressor on a CAR-15 chambered for the 300 Whisper.

My Contender uses a laminated thumb hole stock and forearm made by Boyd's Gunstock Industries. I reshaped the stock considerably, and I added a wide forearm with a very pronounced beavertail grip. The forearm also has a flat surface on the bottom for shooting off sandbags. I use detachable sling swivels and a Harris bipod. Most custom rifles are built for a special purpose. The reward of owning a unique custom rifle like this is worth all of the expense and hard work that you put into it.

This scope was built to my specifications by the Leupold Custom Shop, and it has a unique vertical target turret. This rifle has an extreme arking trajectory; but with this scope and a base (that adds 20 MOA), you have plenty of sight adjustment for long range shooting. The 300 Whisper is a spectacular caliber - especially when usng a scope like this. The trajectory is no problem; as long as you use a laser range finder, and dial the correct setting. New shooters soon discover that it is easy to shoot a suppressed rifle very well.

Some shooters ask, "Why would you want a rifle like this - with a silencer?" My reply is usually, "why not? This rifle has MOA accuracy out to almost 300 yards, it's as quiet as a BB gun, and it hits as hard as a .44 Magnum at 100 yards." That's pretty neat. I have other custom rifles, but this one is by far the most unusual. It's pretty unlikely that you'll ever see a rifle like this at your local gunshop. It is a surprising experience when you can shoot a high powered rifle without the slightest need for ear protection.