Chronograph (without the problems)
A good Chronograph will supply you with accurate information that can help you make much better handloads. There are a million reasons why you can't always rely on the information printed in charts and manuals. If you haven't used a chronograph before, you're in for a few surprises. I've used this particular PACT chronograph for almost ten years. It's a good unit, but I've found a few of things you can do to improve this chronograph and others.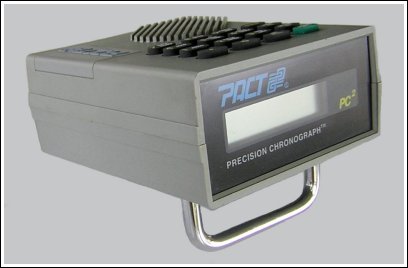 This chronograph doesn't lay flat anymore.

I started off by bolting a plain drawer handle to the bottom of this unit. It was originally a bit awkward to see the display, and you shouldn't have to lift the unit every time you want to read the display. Very simple - it now tilts upward and is a lot easier to use. This modification makes this unit a pleasure to use, instead of a pain in the neck.

Chronographs are very delicate instruments that can be extremely frustrating to use. The trick is to understand how to stack the odds in your favor, so that you don't get "ticked off" when using one. I've found that chronographs use up batteries faster than most shooters would believe. That accounts for most of the problems.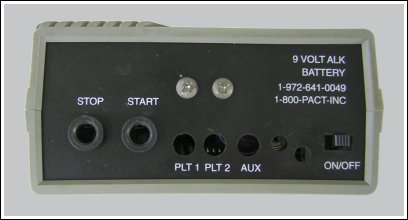 Notice the two small screws on the plastic back panel.
I added them for making quick and easy battery checks.
I also added two "extra" wires from the units 9 volt battery to those screws inside on the back panel. This allows me to take quick voltage readings using a digital meter without having to open the unit all the time. It's also important to conserve your battery, and always turn the unit off immediately after getting your information. When I go to the range for the whole day, I usually go through at least two new batteries. Never store your chronograph with the battery connected.

There's more to this story . . . .