Rob and I flew into Billings, Montana - from Orlando. Our friends left Florida a week earlier, so they could bring their travel trailors. A few minutes after arriving, we all met at Cabela's. That's the greatest place on earth for a shooter to wait around for friends. It just happened that we all needed to pick up several last minute items for this hunt.

This is said to be one of Cabela's smaller stores, and it is still very impressive. It didn't take long, and we were on our way to find the KOA Campground (in Hardin, MT) where we all planned to stay.
---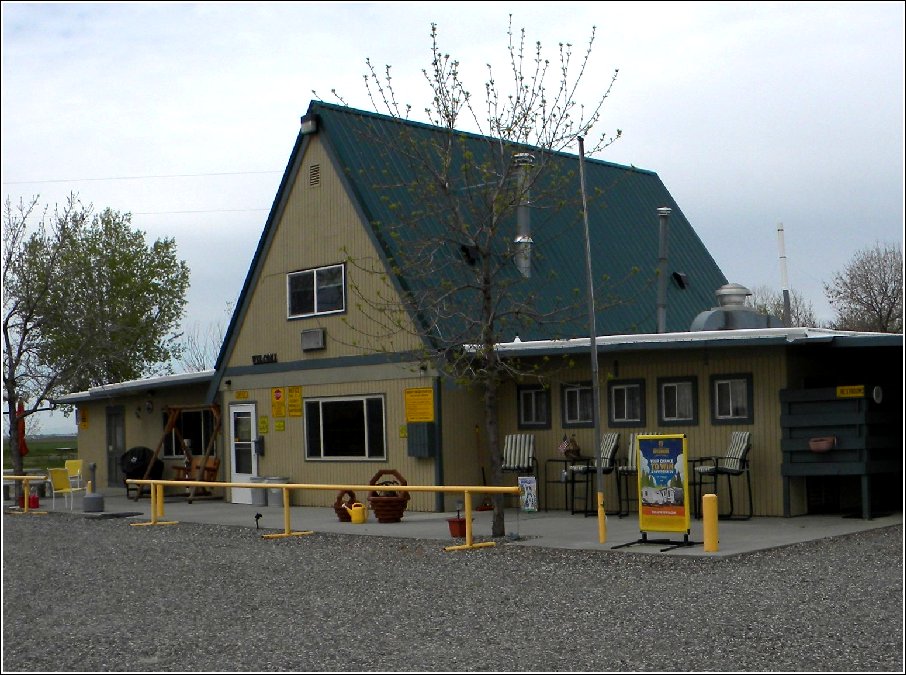 Before this trip, I made reservations (online) at this KOA Campground near Hardin, MT. The KOA owner said they had small "cowboy cabins" that were under $50 a night for two people. I had no idea what to expect, since I've never stayed at a campground before. On previous hunting trips, I've always stayed in a trailor, a friends house, a farmhouse, or a motel. One time, I even stayed at an old abandoned logging cabin.

About a week before the trip, I wondered what the heck does a cowboy cabin look like. So the next day, I called this KOA campground to get more information. That's when I found that their cowboy cabins have no bathroom. You had to go across the parking lot to use their public restroom and showers.
---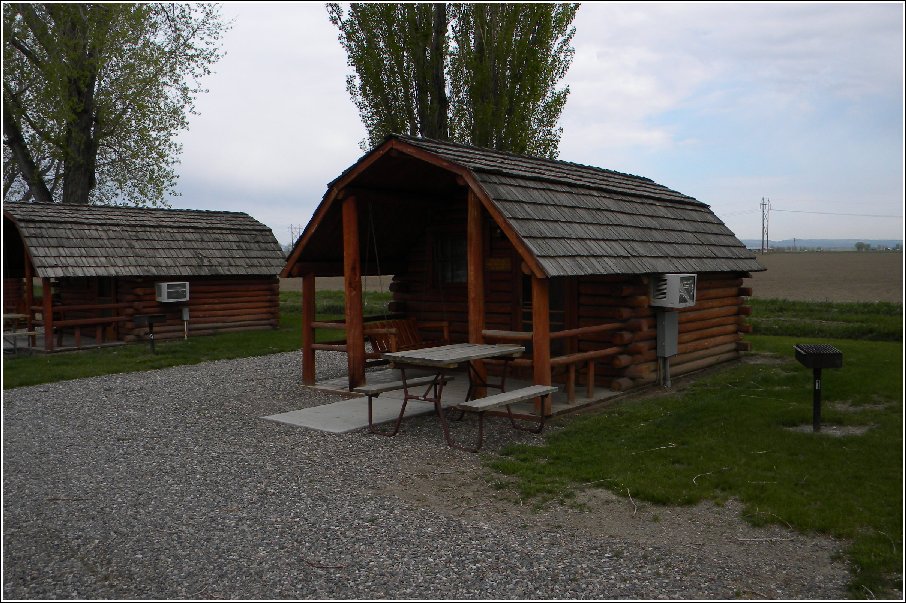 Well, this is the cowboy cabin. I honestly didn't expect it to look like the Sheridan Biltmore, but I'd feel a lot better if it had a bathroom . . . . especially in May, when it was gets down into the 30s at night.

It looked like it would be a great place during the summer. However, we were glad that I upgraded our reservations to their "deluxe" cabin.
---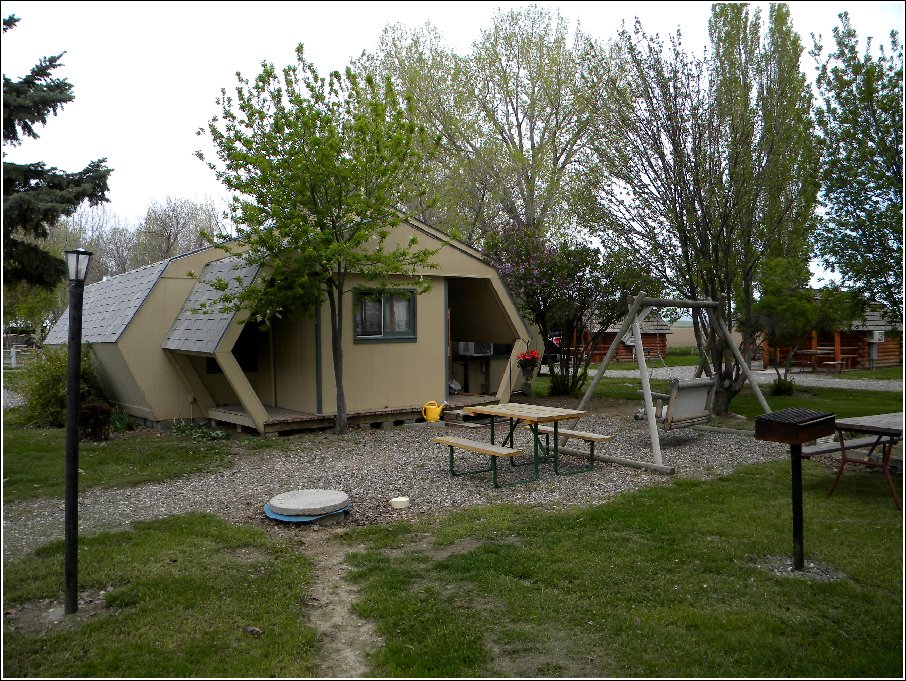 This is the "deluxe cabin" we stayed at. It was pretty comfortable after we learned how to use the heater. This unusual little cabin had three bedrooms, a kitchen, livingroom and a bathroom. It also had two picnic tables outside and a charcoal grill.
---
This is the main room where we got together to plan each day. (There's not much planning on a prairie dog hunt.) Just load up the truck and hit the road.
---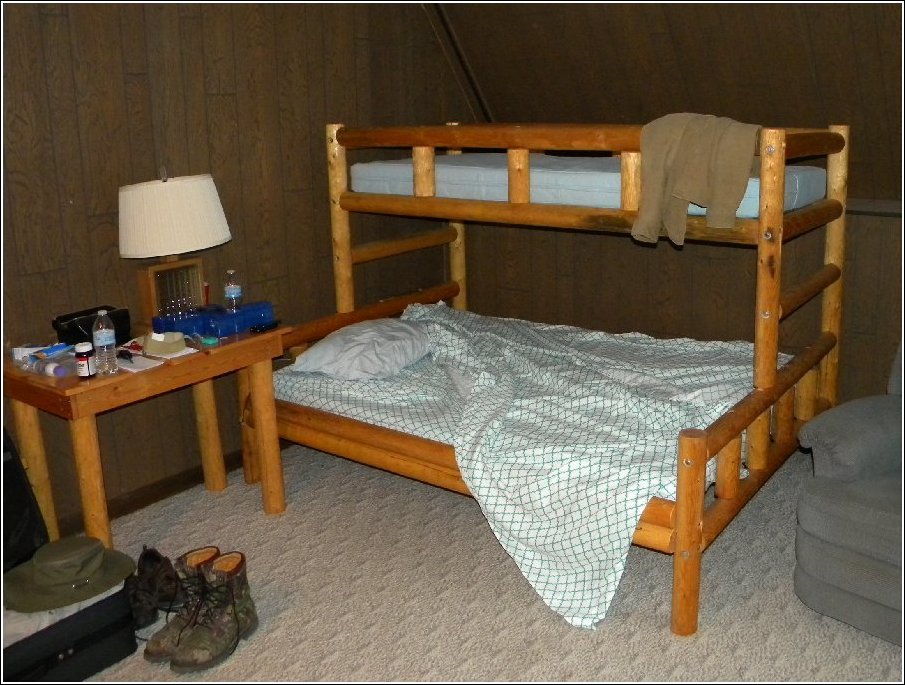 This is what the bedrooms looked like. The sheets, pillow and blankets were extra.
---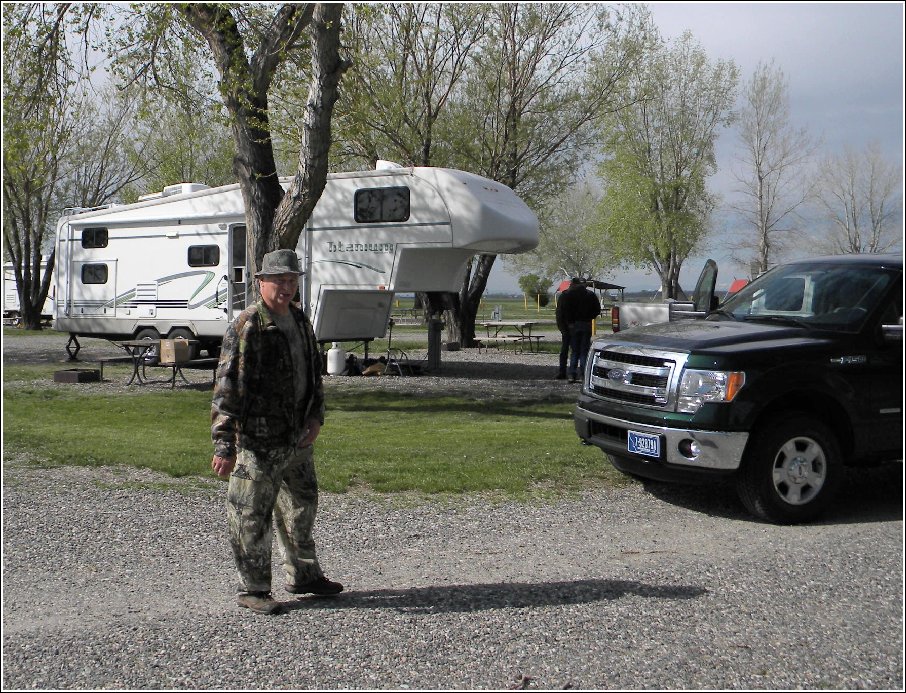 After the first cold night, Rob was ready to head out. In the background, you can see the travel trailor that Bob drove up from Florida. It was Pretty Nice inside. My rental truck is at the right, and it was a real beauty . . . . so far.
---
Bob arrived ahead of us to get permission from the landowner to hunt on his property. It turned out the land owner was almost as glad as we were to hunt the prairie dogs, because he had a jillion of 'em.
---
We started taking shots from the bed of the truck. The sound of that many prairie dogs sounded like a giant factory full of squeaky toys. This was the most target rich environment I've ever seen.
---
It didn't take long to setup the shooting benches. We were well equipped to mow those prairie dogs clean off the map.
---
Bob and Rob both used heavy barrel, bolt action rifles in .223 Remington. Bob used a Savage Model LRPV with a 5.5-22x NightForce scope, and Rob used a Winchester Model 70 with a Millett 4-16x scope. We all had our own shooting bench and range finder.
---
I used a CAR-15 with a medium weight Criterion barrel and a 10 round magazine. &nbsp The scope is a 6.5 - 25x Leupold MK4 and I used a low BR bipod. Each of us brought at least 500 rounds of ammo, and we were prepared to spend four days taking as many prairie dogs as possible.
---
Rob is ranging targets for Gary. Gary (a left hander) was shooting factory .204 ammo in a bolt rifle with a lightweight barrel. The quickest and most effective shooting was always when one of us ranged targets for another shooter. The majority of the shots were between 75 to about 400 yards, and that .204 did real well.
---
Rob is shown here ranging a target for Dave. Dave took a prairie dog at the longest range. I believe it was almost 500 yards. Gary and Dave's wives watched from the car as some prairie dogs went airborn.
---
Those small, high velovity bullets we fired really opened up the prairie dogs. Some of them were cut in half.
---
I've always heard that prairie dogs were far easier to hunt than the woodchucks in the northeast. That was an understatement! You can shoot 2 or 3 praire dogs on the same mound before any of them get the idea to run and hide. In a few minutes, they would return as if nothing happened. Woodchucks are a whole lot smarter than that.
---
This part of Montana is a beautiful place to see. It has rolling hills and bluffs in the distance. When you get to the top of any hill, you get another view that is even more beautiful. Every single field we saw was full of prairie dog dens.
---
This is Rob making breakfast for everyone. I was told that he is a great cook, and he always does the camp cooking. He planned every meal, and it was awesome food. Breakfast included bacon & eggs, and pancakes or blueberry mufins. Dinner was even better. (Notice how fast he is moving.)
---
The least I could do is clean Rob's rifle while he made dinner. We tried to do a quick cleaning in the field every 40 to 50 rounds. At the end of the day, our rifle barrels got a serious cleaning. I didn't bring a borescope; but at the end of the trip, I could see that all of the cleanings really helped.
---
The temperature went down into the 30s for the first two nights. On the first morning (about 6:00 am) I looked out the window to see "The Early Riser". Bob was on already on his way to get breakfast.
---
The next morning Rob was eager to open fire on the prairie dogs. We were ready to mow 'em down again.
---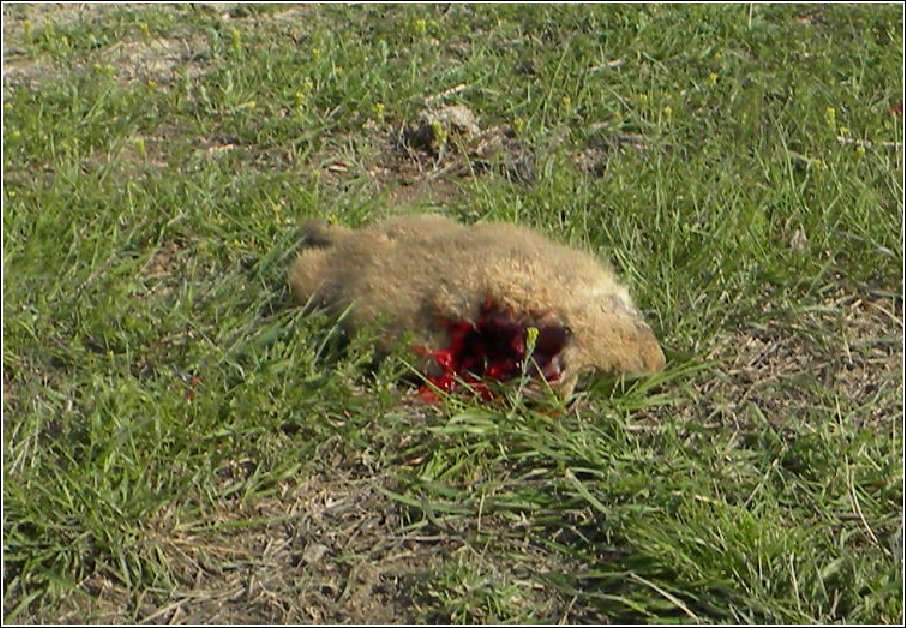 The concentration from this much shooting was so intense, that it really dried your eyes out. We gave the prairie dog population a real beating. They littered the landscape, and yet there were a jillion more - everywhere we looked. Each day we looked over these fields and found very few dead bodies laying around. We saw two large eagles swoop down to pick up some of the ones we shot. The next day there were none to be found. We apparently setup an impressive buffet for the coyotes too.
---
When we got back from the field, we were hungry and soon ready for dinner. Rob had everything planned. &nbsp One day he started a huge pot roast cooking in a crock pot. When we returned it was more than enough for everyone, so on the following night we had a spagetti roast. Very interesting, and everyone like it.
---
The next few nights, our dinner menu included charcoal grilled steaks, hamburgers, beans and deviled eggs, pot roast, and spagetti. I have no idea how I managed to lose 2 pounds on that trip.
---
This is a humorous exchange between Bob, his wife Sybil, and Dave. This comradery is what usually makes a hunt especially memorable. I had never met Gary, Dave or their wives before this trip (and they live within 30 miles of my home in Florida.) Hopefully, we can all get together next year and do this again.

I found when I returned from this trip, my business actually managed to keep working without me. I returned all of my phone calls each evening or on the following morning, depending on the different time zones. It's nice to know that the world still turns when you're away. I hope there are some workaholics reading this.
---
Even though we had a jillion acres to hunt, we spent the next few days very nearby. There was no shortage of prairie dogs on this property. We were able to spend four days shooting on just two different fields.
---
This CAR-15 turned out to be a very good choice for this hunt. However, I'm going to make a few changes on it before my next prairie dog hunt. Most of the time, you can hear your bullet make a distinctve WHACK when you hit a prairie dag. However, a headshot doesn't always return that gratifying sound. So, I'm going to swap my flash suppressor for a serious muzzle brake, and I also might consider shooting a smallet bullet.

A heavy barrel bolt rifle (firing 40 gr. bullet) always allows you to see the bullet impact. I found that most of the time, scope magnification over 20X would usually keep you from seeing the bullet impact. Sometimes, I could raise my head from the scope and see prairie dog parts still flying through the air. When using 20X or more (if I stayed looking through the scope), I would occasionally see a prairie dog fall from the sky - back into my field of view.
---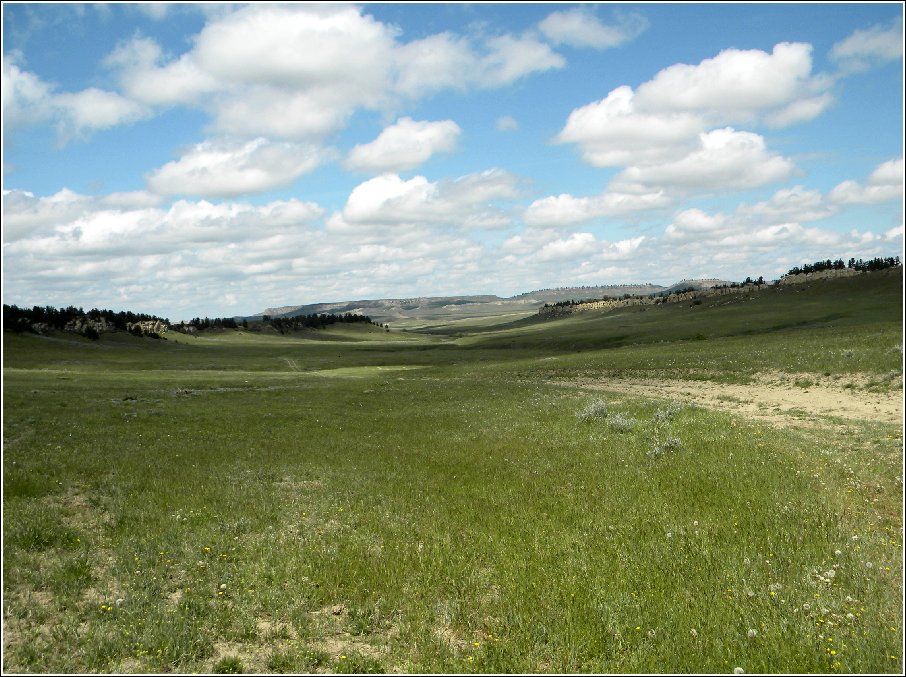 We enjoyed great weather for this whole trip, and it didn't start to rain until we finished our 4th day of shooting. By this time, my shiny, new Ford F150 looked like a dirt ball, and that turned into a muddy mess.

As we rolled in to Hardin, we stopped off at a "Do-it-yourself" car wash and found it packed with cars; but nobody was washing anything. They told us, "There is a massive storm coming down from Billings. Try to park under some sort of cover, because it should be here in the next few minutes." Well, in this wide open country, there are very few good places to hide, and we didn't quite make it . . . .
---
No hunting trip is complete without some sort of disaster. This disaster turned out to be a brief storm with hail the size of baseballs. Visibility quickly went to zero, and the hail started coming in sideways. It even broke one of the tail lights. Remember that great looking Ford F150 rental? Well, both of our trucks got plastered. I told Bob, "I guess we can forget the car wash. It'll be interesting to hear what Enterprise Car Rental says when I return it tomorrow."
---
We must have killed well over 1,000 prairie dogs in four days. I fired 381 rounds. We all had a great time, and the wives were such good sports about the whole thing, they really deserve to go for a grand shopping trip and get anything they want. Oh boy . . . . what is that going to cost? (Sorry . . . . my wife didn't make it on this trip.)